It's award nomination time!  AND THANK GAWD, I don't need to ask you fine folks to nominate or vote for me or anything, because I already know all the awards I'm going to win this year.  The people behind the people behind the scenes have told me I'm a shoe-in.  So here's the list.  Don't be jealous.
2016 Locus Award for "Best Use of Magical 80's Tech versus PTA Blood Witches": (magical Casio calculator watch) from Finn Fancy Necromancy, by Randy Henderson.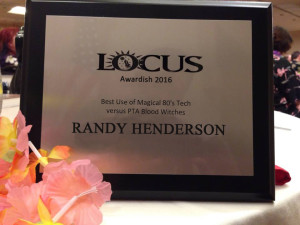 2016 Ricky for Best Line to Read in an Alan Rickman Voice*: "Bloody Mary, and make it as spicy as Shakira shaking her hips in a jalapeño field, please." From Finn Fancy Necromancy, by Randy Henderson.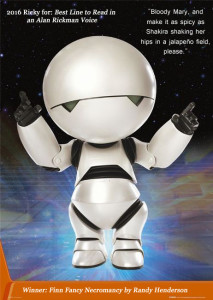 2016 Nebula for: Depiction of Gnomes Almost Awesome Enough to Make Us Forget the Travesty that was Gnomeo and Juliet:  Finn Fancy Necromancy, by Randy Henderson.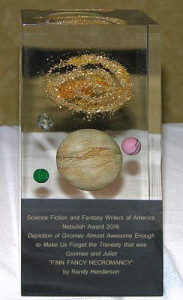 The 2016 Ziggy Award for Four Completely Random Lines of Dialogue from a Novel Best Sung Together like a Ziggy Stardust Song:
"Feet too, Stormer," I said.  "You're a loner, a rebel."
…
"He drew me close and snuffled my head, surrounding me with his musky cedar scent."
…
"I like that you look at me like I'm still that girl who didn't know The Clash from The Cure."
…
And Petey said,
"I took your Pacman watch."
All lines from: Finn Fancy Necromancy by Randy Henderson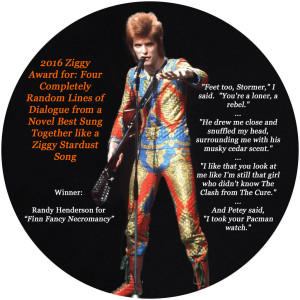 2016 Hugo for Best Novel Idea about Use of a Hugo: "Condom demonstration prop in sexual education class for cyborgs", submitted by Randy Henderson, author of Finn Fancy Necromancy.**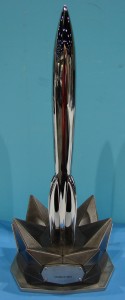 Now I suppose if you have an empty slot after you realize that City of Stairs was 2014, and All the Birds in the Sky is 2016, you can actually add Finn Fancy Necromancy to your nomination ballot.  Not that I have any expectation of winning but oh boy could I have some fun pretending like I might for that brief month or so.
Or if not me, you can add your deserving-writer-friend-whose-book-you-haven't-read-yet-because-let's-face-it-it-just-isn't-your-thing-and-you-have-so-much-to-read-already-but-you're-sure-they-are-a-great-writer-and-wonderful-human-being.  That's cool too.  That's what I'll probably do with that last slot on my own ballots.
(On a completely unrelated note, I define "deserving-writer-friends…" as folks who have eligible works for award nomination and happen to take me to a delicious meal and/ or offer a really good neck and shoulder massage.  Just saying.  No reason.)
There.  Done.  Phew.  Now I don't have to do all that uncomfortable promotiony stuff about awards for the next several months.
PS:  All joking and Finn Fancy aside, you really should nominate the stuff you read and liked in 2015.  Those folks worked hard, are no doubt mired in Imposter Syndrome, and it really makes them feel good to have that work validated by nominations.
Ending Soonish Nomination details:
If you are a SFWA member, you can nominate for the Nebula Award until February 15th. Note the word-counts when nominating.  And you can also nominate for the Andre Norton award for YA books as well.
If you're a member of the 2015, 2016, or 2017 WorldCons, you can nominate for the Hugo awards.  You'll need your membership number (emailed to you by MidAmeriCon if you're registered for 2016, or by Sasquan if you went 2015 but not going 2016).  And you'll need a PIN, emailed to you by MidAmeriCon (and if you haven't received it by Feb 5th you're supposed to email them at hugopin@midamericon2.org).
Have fun!  And good luck to all the amazing authors who really do deserve an award.  I'll probably list a few suggestions when I find the time again.
Cheers!
*You know you tried it.
**EDIT NOTE: I realized upon re-reading my post that the Hugo bit may be seen as me devaluing or desecrating the Hugo, a sensitive topic after last year.  Just wanted to say that's not the case, I think the Hugos are awesome, and hope truly great works and good folks win the awards this year.  Left the joke though.  🙂