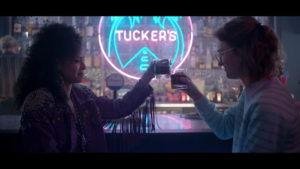 Black Mirror: San Junipero hit all of my (and Finn's) sweet spots!
I think part of the positive reactions might be due to the fact that Black Mirror is pretty consistently bleak, but reality right now is practically a Black Mirror episode, so an episode that was (possibly) hopeful was such a nice gift.
And yes, the concept's been well covered, so I understand why some may feel that viewer's reactions to that concept are overblown, but many viewers may not be deeply read in scifi, so their "mind blown" reactions are understandable and a perfectly good thing.
I am fine if people discover, say, robots through Star Trek or Westworld without going back to read Asimov first (or at all) if Asimov doesn't appeal to them (and no I'm not saying San Junipero is about robots).
We each have limited time to read and consume media, I don't think it makes someone less of a genre fan or their love of or reaction to something less valid if they only have experience with recently produced media and not the foundational classics or the past century of fiction.
Yes, knowing the whole history of robot fiction might enrich one's experience of a new robot story — or at least allow one say clever literary things like "this story was in dialogue with the works of Obscure Author, exploring the metaphor of so and so."
But it also might not. And in the end, I love the possible conversations a story like this might spark among a group of friends around a table (in between Instagramming whatever artisanal fare they are eating, of course).