Let's talk for a second about dreams, and passions, and the need for art that provokes speculative thinking and deep Feels — and the insane masochistic lives of the writers driven to provide that.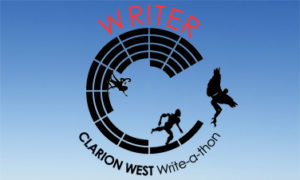 There are a lot of folks out there working hard to create for us the stories that we deeply crave and need, even when we don't realize we crave or need them.  Stories that take use into fantastical worlds to escape our Darkest Timeline for a while.  Stories that explore social, psychological, political and technological problems and stimulate our thinky organs and inspire future solutions.  Stories that fill us with the Feels and help us to explore experiences unlike our own.
This act of creation is hard work.  And lonely work.  And often masochistic and depressing and ego-shredding work, because like all art it requires a lot of time and effort to become good at and then there is still no guarantee that anyone will appreciate or pay for it.  Writing, like so many professional arts, is facing constant rejection and not quitting.
Each hour spent writing is glorious agony, and the difficult resistance of a thousand tempting distractions.
Each story completed is a big middle finger to screaming self-doubt and the whispers of futility that haunt them as they write.
These folks continue to write despite the sacrifice and rejection and doubts because it is their passion.  They themselves have sought escape and inspiration and growth in the works of others, and were so deeply affected by the experience that they wish to do the same for us, to participate more fully in the genres and the artforms that have given to them, and in doing so they give of themselves to you.
There are many ways you can give back and help a writer get through the struggles and doubts and hours of staring alone at words on a screen.  Send them a quick message saying you admire their passion and believe in them.  If you have read something of theirs and enjoyed it, let them know, and certainly let others know through word of mouth, posts, and reviews.
And right now, you can also let one group of emerging authors know you support them and their art by donating to Clarion West in their name.  Clarion West is a workshop for up-and-coming genre writers, with a mission to support diversity in voices and content.
It is a huge sacrifice for many of these authors to attend the workshop.  Some travel from far away.  All must be apart from their loved ones and their source of income for six weeks in order to go "all in" on their dream of being a writer.  Donating to the workshop helps provide scholarships to these, your future favorite authors, among other things.
Go to https://www.clarionwest.org/groups/write-a-thon-2017/ to select writers and donate in their name.
If you're thinking of donating $20, feel free to spread it around between a few of them.  Donating $5 in a writer's name to the Clarion West write-a-thon may seem like a small thing, but you would be surprised at how much it means to the writer that you showed belief not only in this workshop, but in them.