| About Randy (and Shmorgh) |
About Randy Henderson: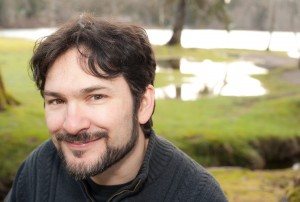 The short version:
Randy Henderson is cool and minty with a writer aftertaste.  A published writer, he graduated from Clarion West in 2009, and won first place in Writers of the Future for Q2 2013.
His humorous urban fantasy novel, FINN FANCY NECROMANCY, is forthcoming from TOR in February, 2015.
Randy has experience as a reader, lecturer and panel participant on the subject of writing at events such as Cascade Writers Workshop, Norwescon, WorldCon, and Rainforest Writers Retreat.
The wordy version:
Randy was born in the States of wonder, awe, and Washington.  He quickly learned the joy of escaping to fantasy worlds, from Middle Earth to Earth Sea, from Amber to Pern, from Valdemar to Midkemia.  He took some amazing vacation photos of these places (in his head), that he shares with all the friends he made (also in his head).  His head has become rather cluttered.
After toying with such impressive creative pursuits as Latch Hook and recording really clever answering machine messages, Randy realized that what he wanted most was to write that which had brought him much joy.  It was not as easy as it looked.
Many years of dabbling followed, during which Randy studied social sciences and worked a variety of jobs such as weight loss counselor, Alaska factory-boat worker, and writing tax sob stories for CPA clients (his first paid fiction), before finally settling in IT.  Randy decided to get serious about his writing, and attended the Clarion West writing workshop where he learned things, dark, mystical things about the art of writing, things best left unspoken.  Ask him, and he'll gladly speak of them.
Randy then wrote new stories, faster stories, stronger stories, and was published in wondrous places like Realms of Fantasy and Escape Pod before winning Writers of the Future.  He has since sold additional stories to editors with excellent taste in fiction, as well as a humorous urban fantasy series to TOR.   The first book in the series, FINN FANCY NECROMANCY, is forthcoming in February, 2015.
About Shmorgh:
Shmorgh is an alien that crashed on Earth and now threatens to eat the entire human race.  The only thing that keeps humanity safe is this blog, which for some reason keeps Shmorgh mightily amused and distracted from its hunger for human flesh.  Alas and however, this does not keep it from being a complete jerk.