Ghostbusters was great fun. Reading reviews, I see it really being reviewed as four different things, and depending on which, the reviews vary widely:
1) Remake of a beloved classic
3) A work of female representation and empowerment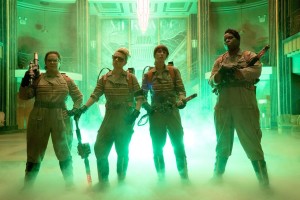 1) Remake: It was that perfect blend of nods to the original yet different enough to be fresh. Much better than many of the other remakes in recent years.
2) Comedy: It was funny, I laughed out loud a number of times. But it lacked a character with the same level of comedic snark as Murray's character in the original. This was not the fault of the actors, but of the writers.
3) Film: It was okay, but the plot was rather straightforward, there weren't really any surprises. In the first, you had the mystery of Zuul and the keymaster/gatekeeper etc, with the (albeit light) romance subplot, which felt like multiple threads that came together in the end (like particle streams). This one didn't feel quite as well developed plot-wise, the revelations along the way not really surprising. And the opening had a huge issue for me when I expected at first the character who seemed to have died in the basement to turn out to be possessed or a demon or something but no, he just inexplicably escaped?
4) Female Representation and Empowerment: Awesome. And well done. The jokes about internet comments were perfect. Lots of meta stuff to enjoy. And I got a bit teared up at the end, when they are all on the balcony. I can't remember the exact words, but I felt when I saw it that they were talking as much about their accomplishment in making the film and doing it well as in defeating the giant Trump robot.
Well, okay, it wasn't a Trump robot, but maybe in the sequel?